Information about who rides where and when is useful 
for city planners and policymakers, but also a valuable commodity 
in its own right. 

AAP
Beyond the benefits of dockless bike sharing for people's mobility and health, these services are producing an ever more useful byproduct: journey data. Mapped through global positioning system (GPS) devices on the bikes or via Bluetooth using GPS data from users' smartphones, the journey data that operators collect could be a powerful tool for city planners and policymakers, possibly even a valuable commodity.
Each trip taken on a dockless bike is recorded in a database. At UNSW's City Futures Research Centre, we have been working with Bicycle Network's Riderlog app data. We have mapped more than 120,000 journeys and are exploring how the data can be both used and protected.
We have been able to create Bicycling Dashboards for all the capital cities of Australia, an example of which is shown below. The dashboard can show riders' behaviours and movements across each city.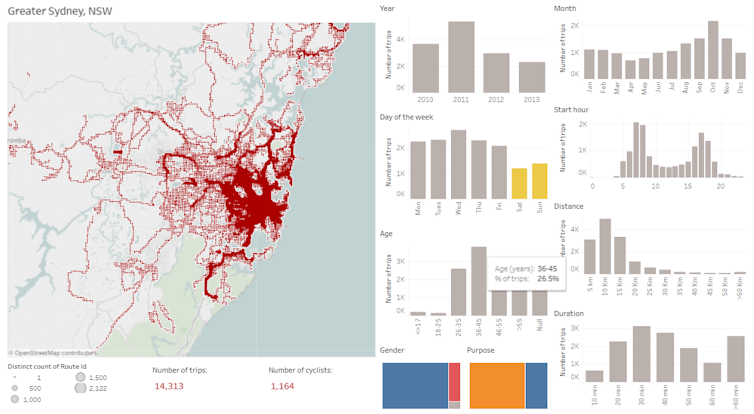 Dockless, the next big disruption?
Dockless sharing schemes use bikes that are self-locking and tracked through GPS. Using a smartphone app, riders can pick up a bike, use it, then essentially leave it at their destination.
In an era of smart cities and ubiquitous computing, dockless bike sharing adds another layer of connection through digital platforms and smartphone apps to navigate and interact with the built environment. Our dependency on these new and useful technologies is driving their disruptive impacts.
Technology-based services are reshaping how city residents and visitors access essential services such as transport and housing. Bower and Christensen first coined the term disruptive technologies in 1995.
The two disruptive technology pinups are Uber and Airbnb. Uber has disrupted the business model of the taxi industry, while Airbnb has disrupted the short-term accommodation market. In the last 10 years both have exploded globally and now hold formidable market shares in more than 100 cities across the world.
The new kid on the block is dockless bikes.
A key advantage in bike sharing
An interesting point of difference to other city disruptors is that there is not one dominant dockless bike market leader. In Australia, over just a few months, we have seen the arrival of at least six operators: Reddy Go, OBike, ofo, mobike, Earth bike and Airbike.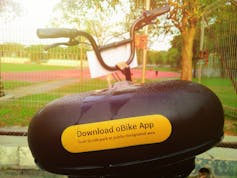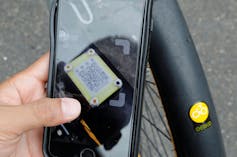 All dockless bike schemes allow the rider to leave the bike in public spaces close to their destination. This is the key difference from docked bike-sharing systems, which required the rider to pick up and return the bike at dedicated docking stations. Having hired such bikes in Chicago and Glasgow, I can attest to the challenges of finding the elusive docking station and then returning the bike to a station that is not as close as I would like to my destination.
The dockless bike can provide an important link in the "mobility as a service" value chain, whether it's used for the "last mile" commute or the tourist experience. Either way, having more bikes on our roads must encourage more cycling, which can only be a good thing, right?
Smart but revealing
Our work at City Futures makes clear just how much the collected journey data can tell us about the users. Across Australian capital cities, we have mapped more than 120,000 cycle journeys by 7,600 users over three-and-half years.
Through cleaning and visualising this data, we can start to understand at a fine scale where and when people are riding through the city and where they are not, and what age and gender the cyclists are.
As the Bicycling Dashboards show, this is a rich source of information for city planners and policymakers. If linked to other data it could just as easily be a valuable commodity in its own right.
So one might speculate if collecting fine-scale mobility data is part of the dockless bike operators' business model.
The collection of personal mobility data also raises questions about its security and anonymity. The data visualised in the Bicycling Dashboard has gone through a process of formatting, cleaning, validating and, importantly, anonymisation.
Safeguarding personal data is essential. It should be of paramount concern to dockless bike operators as they collect detailed information about each individual's movements. Other personal information typically collected includes the cyclist's phone number and credit card details.
Aggregating this information to understand mobility patterns is valuable for city planners and policymakers. However, the individual traces of a person as they travel the city must be guarded for reasons of privacy and personal security.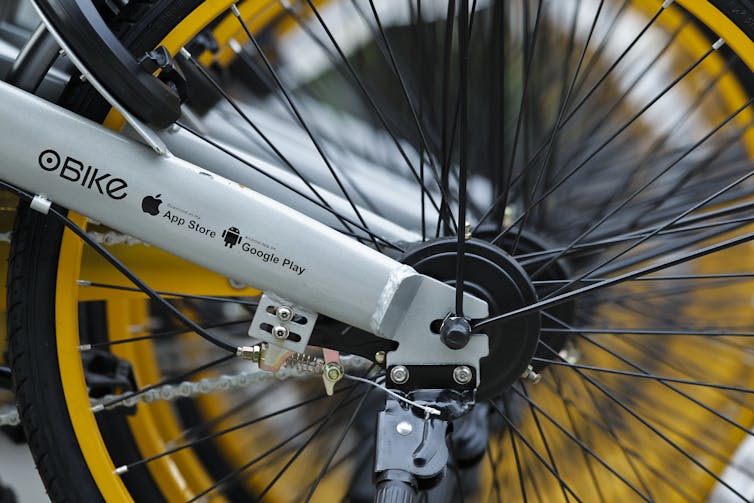 Guidelines to getting it right
Data collection is but one of the opportunities and challenges facing dockless bike operators. Many also see visual clutter as a key drawback. China has bike graveyards filled with dockless bikes; in Melbourne, dozens of dockless bikes have been dredged from the Yarra River; and in Sydney, six inner-city councils (Inner West, City of Sydney, Randwick, Waverley, Woollahra and Canada Bay) developed bike-sharing provider guidelines, giving operators three months to comply.
The guidelines are sensible and importantly include "data sharing" between bike-sharing operators and councils as one of seven key principles.
However, dockless bikes are still having a marked impact in Sydney. In the recently released draft Future Transport Strategy 2056, TransportNSW identified bike sharing as part of the solution to people's transport needs.
We can see dockless bikes as the next link in the chain to mobility as a service. I hope the operators can get it right, so more Australians can get on a bike and realise the health benefits of active transport.
Dr Simone Z. Leao created the Bicycling Dashboard shown in this article.
---
This article was written by:

This article is part of a syndicated news program via