Online shopping is quick and fun. 
There are ways to make it eco-friendly.
Online shopping has recently smashed retail records worldwide, while its growth has continued significantly in Australia. With Christmas just around the corner, Australia Post expects this to be the busiest year it has ever seen.
December is the largest buying month in Australia, with online shopping hitting its peak during the Christmas period. In 2016, total online spending hit a staggering A$21.7 billionwith a 10.4% growth in parcels.
An increase in purchases usually leads to an increased carbon footprint, but online shopping can actually be more environmentally friendly than traditional shopping – as long as you follow these simple rules.
Online shopping can be better than buying in-store
During the 2016 Christmas period, Australian Post handled more than 34 million domestic parcels. It might seem natural to assume that all this package delivery increases the environmental impact of our shopping, but research shows that completely online buying is better than going to a store.
The major reason for online shopping's lower carbon footprint is the reduced number of trips we make to stores. A delivery truck uses far less fuel per package than an equivalent number of people driving in person to pick them up.
However, many people will check products in-store before buying them online, which negates the benefit of online shopping. A 2013 study from the MIT Center for Transporation and Logistics found that shoppers who visit stores before buying online generate a carbon footprint almost twice the size of a purely online purchase.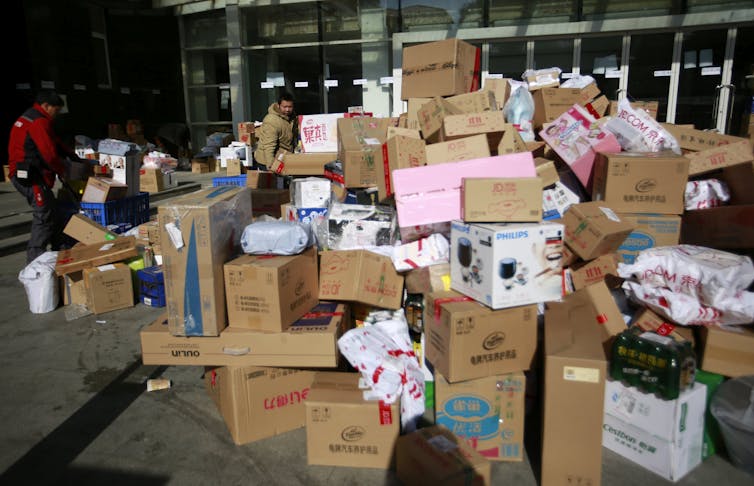 Problems also arise when consumers are not at home, as redeliveries add a significant amount of carbon emssions to online purchases. Flexible delivery options, like Australia Post's Safe Drop, can help mitigate this (and some overseas companies actually allow adjustable delivery times).
Another environmental concern is the packaging itself. Most packaging boxes consist of cardboard and various types of plastics. Sadly, almost half of the boxes are not recycled. And while you might feel guilty about this waste, the bigger issue lies in your returns.
At Zalando, one of the biggest online retail websites, where shipping and returns are free, the return rate of packages is 50%. In the US, the chain of returned goods used 4.5 billion litres of diesel fuel and emitted 12 million tonnes of carbon emissions in 2015 alone.
In summary, picking up items after a failed delivery or at a click-and-collect point, returning unwanted items, or other complementary shopping trips all increase the carbon footprint.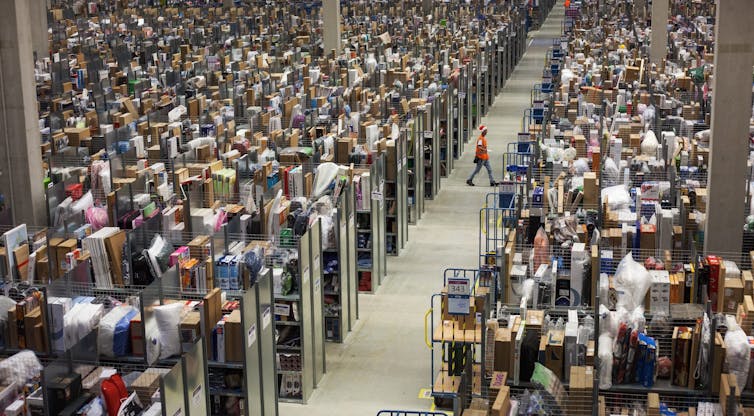 The 4 Rs of sustainable online shopping
Although the entire delivery process is complex and consists of many variables, there are some simple things to keep in mind. I call them the four Rs:
Rethink: online purchasing is better for the environment, but only if the entire process remains digital from start to finish. So, no brick-and-mortar store visiting. Signing up for suitable delivery options helps to ensure your parcel arrives on time, eliminates extra deliveries and reduces your carbon impact.
Relax: buy well in advance, thereby avoiding same-day or next-day delivery. The gives transport companies the chance to consolidate the packages into fewer trips, increasing efficiency and reducing emissions.
Returns: do you really need to order that T-shirt in three sizes? Every avoided return is a contribution to the environment.
Reuse: opt for eco-friendly packaging and reuse it, especially boxes and cushioning materials. Planet Ark, an Australian environmental organisation, has lots of information on recycling if you want to understand the size of the problem.
Ultimately, although these steps can help, eco-friendly shopping begins with what you buy, and from where.
In most cases, transportation counts for only a small part of an item's overall environmental impact, so it's important to choose the right producer. Keep in mind that, although delivery is important, there is an entire supply chain that comes before it. Happy sustainable shopping!
---
This article was written by:

This article is part of a syndicated news program via