Having a pet dog turns out to be a highly 
car-dependent affair.
Dog owners depend very heavily on their cars to transport and care for their pets. Our recently published study estimates that dog owners make about 2.4 million dog-related trips a week in Sydney. We also found pet owners overwhelmingly want to be able to travel on public transport with their pets. So why are they still excluded?
Our study, involving more than 1,250 Sydney dog owners, looked at popular activities owners do with their dogs and how often these require a trip by car. Typical activities include:
walking
visiting the park or other recreational areas
dog training
going to cafés, bars or shops
visiting family, friends or the vet.
On average, we found people walk their dog twice or more a week. While this confirms existing research, we found that one in four dog walks actually began with a drive in a car. Of the more than 75% of dog owners who go to a recreational area twice or more a week, 45% get there by car. And of the two-thirds of people who go to the dog park three times a week, more than half travel by car.
This demonstrates a surprisingly high reliance on private cars for dog ownership. The table below clearly shows this.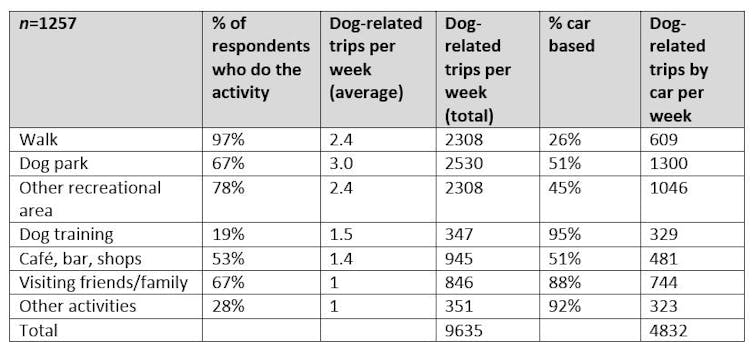 The survey also found that, on average, people visit a vet three times a year. They use a car for 86% of those trips.
However, 14% said lack of transport had prevented them from taking their dog to a vet. People who did not own a car were more likely to fall into this category.
So, why does this matter?
Our results indicate that enjoying and caring for a dog in Australian cities – which has proven health and social benefits – is a relatively car-dependent affair. And car dependency is something urban planners want us to leave behind for many reasons, including sustainability, health and liveability.
If we are trying to reduce car use, understanding activities that lead to car dependence is important. We are particularly interested in the unintentional, often negative, consequences for individuals who, by choice or circumstance, do not have access to a car. A compromised ability to enjoy and care for a dog is one such consequence.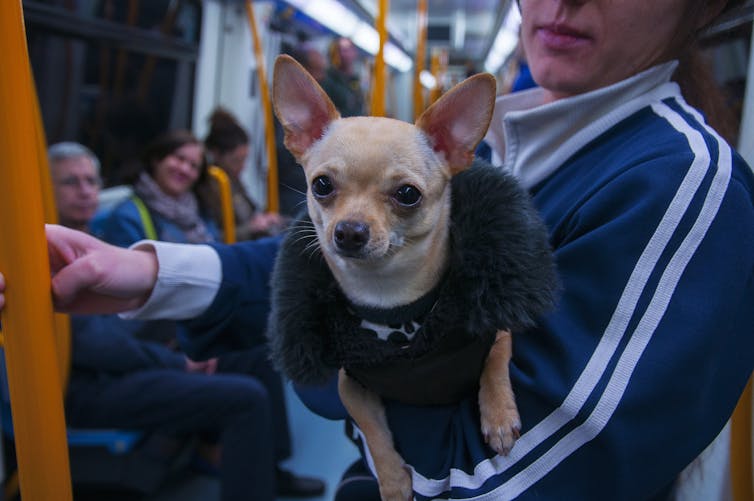 A policy solution would be to allow dogs on public transport in Australian cities. Unsurprisingly, our survey of dog owners found an overwhelming 95% support this.
More than half indicated they would do more activities with their hound if this were allowed. And 20% said they would even consider getting by without one of their cars if they could take their dog on public transport.
What are the rules in other countries?
With these findings in mind, we investigated public transport policies on pets in 30 cities across Europe, the United States and Australia. We found all European cities allowed dogs on public transport. Most cities in the US and Australia did not.
The policies allowing dogs vary. Some apply limits on where on the train, tram or bus a dog may travel, on travel during peak hours, and on the size of dog. In cities such as Paris, dogs must pass a "basket test" for riding in a carrier or small bag.
Most cities charge a fare for dogs at a concession or child price. Zurich has gone a step further by offering an annual travel card for dogs.
It is interesting that in cultures where private cars are dominant – such as Australia and the US – dogs are restricted from riding on public transport. In Europe, where car ownership and use are less common and public transport use is more the norm, dogs are welcome on trains and buses.
This perhaps says something about how we see public transport in Australia: it is for predictable and "clean" trips, such as the journey to work.
In reality, our lives are made up of messy trips, and to reduce car dependence we need to plan for this mess. This might include measures such as changes to timetables, making the interior of trains and buses more suitable for people carrying groceries, or allowing people to use the train to take their dog on an outing or to the vet. If public transport is for travel for all citizens and dogs are an important part of so many people's lives, why should dogs be excluded from public transport?
---
This article was co-authored by:
This article is part of a syndicated news program via