https://tagg.com.au/the-secret-singer/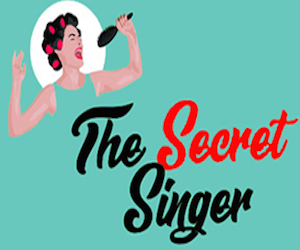 We all have music in us; but how do we set it free?
Multi-award-winning darling of the Australian stage and screen, Genevieve Lemon and Kate Mannix star in the world premiere season of a joyful and intimate new Australian musical – based on a true story – by Joanna Weinberg (Goddess, Pandora's Bag, Lifeforce, The Piano Diaries).
The Secret Singer is the life-affirming story of a singing lesson that changes the life of two very different women. It might just change yours!
Jenny is a 70-something woman who wants to sing in a different community choir 7 days a week. Her one problem? She can barely produce a note. When she bursts into the studio of burnt-out singing teacher Emjay, the sparks fly. But then something amazing happens… and neither will ever be the same.
What starts as an exasperating relationship becomes transformative for both, as hearts and minds open and they discover that sometimes you need to lose yourself to find yourself…
The world premiere of this funny, surprising piece – full of wonderful songs – plays for a limited, two week season at Darlinghurst Theatre Company's Eternity Playhouse from 28 August.
Be charmed, be moved and release your secret singer!
The Secret Singer, written and directed by Joanna Weinberg
Starring Genevieve Lemon and Kate Mannix, Musical Direction by Matt Reid
Event Details
28th Aug – 9th Sep 2018, the Eternity Playhouse, 39 Burton Street Darlinghurst
Tuesday to Saturday 7.30pm, Sundays 5pm, Wed 3pm matinees
Produced by John Feitelson and Lawrence Jackson, in association with Darlinghurst Theatre
Tickets: Adult $54 | Seniors $49 | Groups $44 | Concession $35
Bookings and Information: Click here or call (02) 8356 9987
Please Note: Price Listed is for a Double Pass
Shows (Gold & Bronze Membership)
31/08/2018 7.30pm (AEST) | Admin Fee $10.00 | ALL TICKETS GONE!
05/09/2018 7.30pm (AEST) | Admin Fee $10.00 | ALL TICKETS GONE!
06/09/2018 7.30pm (AEST) | Admin Fee $10.00 | ALL TICKETS GONE!
Darlinghurst Theatre Company's Eternity Playhouse
39 Burton Street
Darlinghurst, New South Wales
2010
Australia