https://tagg.com.au/stephen-hough-melbourne-only-performance/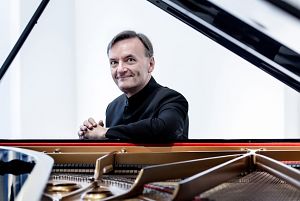 "Stephen Hough is the undisputed top dog among British concert pianists. " – The Economist
"Gripped the attention from start to finish." – The Guardian
A pianist, a composer, a poet, a painter, a novelist, a teacher. Stephen Hough's extraordinary life and accomplishments make him a modern day renaissance man. The Economist ranks him as one of the top 20 polymaths in the world yet it is his outstanding interpretations of piano repertoire that has won him ongoing global acclaim. The UK's Sunday Times hailed him as 'our foremost pianist' while the Boston Globe calls him 'simply one of the most interesting musicians around'.
Join us at the newly renovated Alexander Theatre at Monash University for this exciting recital. Stephen's ONLY MELBOURNE performance.
Hough's concert will mark the first time the Meyer Sound Constellation system is used in an Australian concert venue. The technology allows for a new, highly advanced level of acoustics and sonic flexibility, making it an exciting first for Australian live music.
NOTE: These are double passes. Full price listed is for a double pass.
Shows (Gold & Bronze Membership)
24/06/2018 5.00am until 24/06/2018 6.00am | Admin Fee $10.00 | Book Tickets
Alexander Theatre Monash University
Monash University, Wellington Road
Clayton, Victoria
3800
Australia