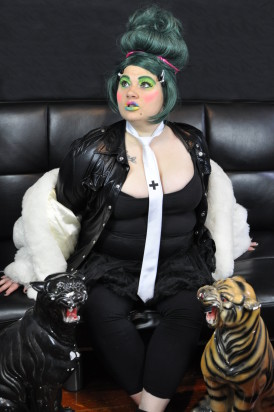 Before Tinder, how did guys hassle people?
Lisa-Skye worked as a 'quality control' monitor for a phone dating agency in the early 2000s. She has stories so scary and silly they'll curl your eyelashes. But when it comes to finding love with other femmes now, is she any better?
Another outrageous dispatch from a life less ordinary.
Directed by Candy Bowers
Praise for Lisa-Skye:
'★★★★½' Adelaide Advertiser
'★★★★' HeraldSun
'★★★★' Theatre People
'★★★★' Harlot Overdrive
'You'll cry laughing.' Volume Media
'A night of wild laughter, cheeky tales and the most delightful of performers.' Aussie Theatre
'Does away with every expectation I've ever had put upon me… amazing.' Art Murmurs
'Captivating… psychotropic storytelling in which she has no equal.' Gutter Culture
'Like sitting in front of a campfire, but the campfire is softly spitting rainbow candies into your lap.' FringeFeed
NOTE: The RRP listed is for a double pass. Single tickets may be taken up for this event. System defaults to a single ticket. Please select 2 from the drop down if you want a double pass.
Shows (Gold & Bronze Membership)
11/04/2019 8.30pm | Admin Fee $10.00 | ALL TICKETS GONE!
12/04/2019 8.30pm | Admin Fee $10.00 | ALL TICKETS GONE!
13/04/2019 4.00pm | Admin Fee $10.00 | ALL TICKETS GONE!
13/04/2019 8.30pm | Admin Fee $10.00 | ALL TICKETS GONE!
14/04/2019 8.30pm | Admin Fee $10.00 | Book Tickets
The Melba Studio
35 Johnston Street
Collingwood, Victoria
3066
Australia