A Black Sabbath fan on stage at a rock concert  


in Finland. Anssi Koskinen/flickr
The popular mythology of heavy metal begins with an amputation. In the mid-1960s, teenage guitarist Frank Anthony Iommi lost the tips of several fingers in an industrial accident. To compensate for this loss, he tuned his guitar lower, slackening the strings to make them easier to bend. Heavy metal was ostensibly born from this unholy union of dismembered fingertips and a sheet metal factory.
The much-exalted missing fingertips of Tony Iommi, who went on to become lead guitarist in Black Sabbath, highlight how heavy metal's foundational mythology is rooted in working class masculinity.
In 1991, Deena Weinstein argued that the heavy metal genre was by definition white, young, working class, and male. Such characterisations have persisted, but heavy metal has actually diversified over time, even embracing left-wing and environmental politics with causes ranging from whale protection to labour conditions.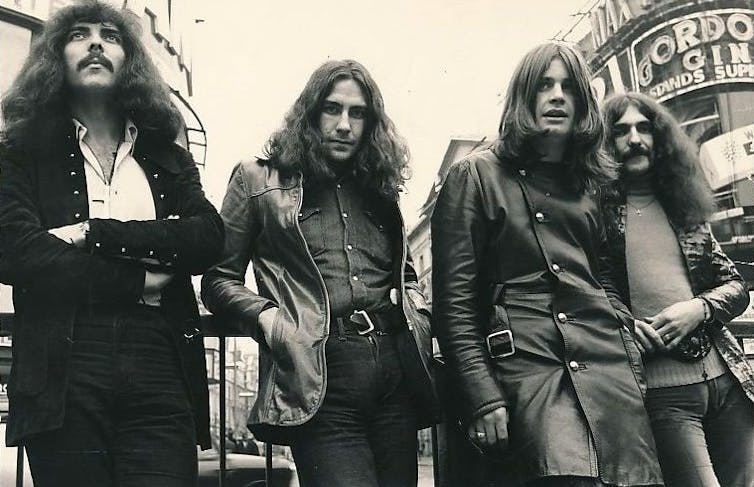 Metal's evolution
The term "heavy metal" began to circulate in the late 1960s, denoting a musical style broadly characterised by highly amplified, distorted guitars, and emphatic drums and bass. Metal's aggressive vocal styles can range from the high-pitched vibrato of Judas Priest's Rob Halford, to the deep, guttural death growls of Travis Ryan of Cattle Decapitation.
With the emergence of Black Sabbath, the "first" heavy metal band, the mythos of metal started to solidify. Black Sabbath's origins in the British industrial city of Birmingham were taken to be a core factor in their sound – heavy, chugging riffs and thunderous drums echoed the bleak repetition of factory floors and deafening manufacturing conditions.
Metal as the music of the white working class was a narrative that followed a swathe of English bands that formed the New Wave of British Heavy Metal in the late 1970s – including Judas Priest, Iron Maiden and Motörhead – and affirmed metal's sense of self, even as the genre continued to expand.
Metal and the market
While metal was at the centre of several moral panics in the 1980s, and was chastised by claims of Satanism, sex and violence, tensions within the metal scene itself saw the development of various subgenres. The pop commerciality of glam and hair metal was countered by the "fundamentalism" of speed and thrash metal scenes spearheaded by bands such as Metallica and Slayer, who sought to make metal harder and faster.
The desire in the late 1980s for even heavier, faster metal saw a push towards death metal, grindcore, and later black metal. The enormous success of Metallica's 1991 self-titled release cemented these subgenres, collectively referred to as "extreme metal", as the last hold-outs for metal's anti-commercial aspirations. Extreme metal can appear bizarre or terrifying to the unfamiliar – the series of murders and church arsons which implicated members of the Norwegian black metal scene in the early 1990s have overshadowed the music itself.
here are now over 100,000 metal bands worldwide, playing more than 50 subgenres of metal. Metal fans are the most loyal listeners of any style of music.
Nonetheless, extreme metal has become the dominant movement, with black and death metal accounting for over 72,000 of the roughly 119,000 band entries on metal-archives.com. The splinter genres of metalcore and deathcore, which fuse metal elements with hardcore punk, also account for a substantial market share.
Political activism
Even as thrash metal, and later death metal, encountered moral panics, these scenes were crucial sites for political discourse. US acts Sacred Reich and Evildead protested environmental destruction in the late 1980s, while South Africa's Retribution Denied spoke out against the lingering corruption of Apartheid in the early 1990s. Although these scenes remained largely white and male, they also offered visibility to people of colour within metal.
With bands such as Mexico's Brujeria, Brazil's Sepultura, and Slovakia's Gladiator, thrash and death metal scenes also became an outlet to express identity narratives which moved beyond the mythologised factory floors of the British midlands.
Metal acts continue to engage with international politics. Environmentalism is a key theme: French progressive death metal band Gojira, alongside British metalcore act Architects, have partnered with the Sea Shepherd Conservation Society. Labour conditions are another concern, in a more explicitly political sense than metal's foundational acts. Grindcore pioneers Napalm Death and blackened folk metal act Dawn Ray'd are staunchly anti-capitalist and anti-fascist.
Metal can also offer nuanced responses to localised politics. Jeremy Wallach writes that young people in Malaysia, Indonesia and Singapore have used metal to express anger at uneven economic development. Israel's Orphaned Land and Palestine's Khalas toured together in 2013 to send a message of coexistence. In Australia, blackened death metal duo Hazeen have used metal to respond to Islamophobia.
Metal nonetheless battles ongoing issues of racism, misogyny and homophobia. Limited representation for women in mainstream metal press beyond "Hottest Chicks" annuals remains a core concern, as does the proliferation of extreme-right sentiment within metal scenes. Representation for trans folk in metal scenes is also minimal, though metal vocalist Danica Roem's recent election to Virginia's House of Delegates may go some way to renegotiate this.
Metal still has much work to do to adequately represent and engage its diverse populations. Yet the increased willingness of metal acts and media outlets to have important discussions around representation and identity points to a vital new era for metal's public image, beyond its original mythology of working class masculinity.
---
This Explainer was written by:

This article is part of a syndicated news program via