Golf is a respected sport that people play as a hobby or profession. It is a game of patience, technique, and precision. People that belong to the high class usually play golf because the equipment can be a bit too pricey. And we all know that playing golf requires proper attire and the necessary equipment.
If you're a person trying to learn how to play golf, you must know first what is the basic things that you need. Don't be pressured to buy all the equipment that there is, you can only buy what is the essential first. Having the right stuff will help you a lot to progress in learning to play golf.
Renting the equipment at first may be a good option, but later on, you'll want to have your own equipment so it'll be a perfect fit for you. Here are the four necessary equipment you'll need to start practising golf:
Golf Club
Well, how can you play golf if you don't have clubs, right? There are different types of golf clubs available; there are Callaway Apex 19 Irons, wedges, drivers, hybrids, etc. They differ from each other according to their purpose. Like the irons, they vary from iron-2 to iron-9, and you use it for fairway or tee shots. And for the wedges, they range from pitching wedge, sand wedge, gap wedge, etc. You use wedges for short shots, for a pitch shot over the greens, and to get your ball off of sand bunkers.
Buy at least 2 to 3 clubs, and you'll be good to go. Renting clubs may not be the right decision in the long run, because the times you rent a club can be equivalent to getting on of your own.
Hand Gloves
You use your hand to swing clubs in playing golf, so you need to protect it from getting blisters. You don't want to get your hands hurt for it can hinder you from playing golf. With hand gloves, you can have a better grip of the club preventing it from slipping away. Especially when you're a person who sweats a lot, hand gloves will surely come in handy.  You can also consider buying golf shoes in the future to have a better grip of the grass and a better posture when you're aiming to swing.
Golf Bag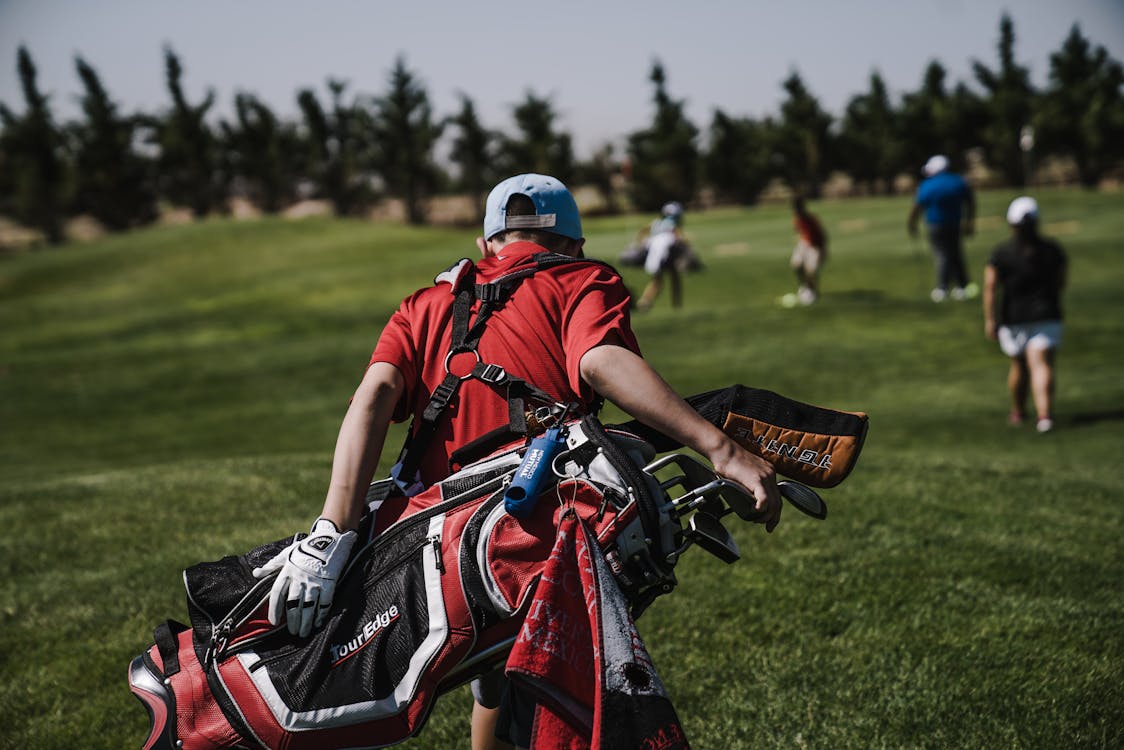 Image source
A golf bag will help you a lot with your equipment, especially later on when you have several clubs. You need your water, balls, clubs, and every other gear you need with you during the entire game. And golf courses can be a broad area, and it's best if you have a golf bag so you can carry it all at once.
Good Read: Ranking the Top 20 Golf Courses in the World
Tees
Tees are like nails with a goblet on top and are either made of wood or plastic. You stick it on the grass as a support for your golf balls. It is used usually in the first stroke of a hole. With the tees, It'll be easier to hit the ball from the ground.
Learning to play golf can be a lot easier when you have your own equipment with you.